AssetTrack® 4 enterprise barcode and RFID asset lifecycle tracking software is now available for Ivanti customers. Maintaining complete, current and accurate hardware asset data within Ivanti has never been easier.
AssetTrack enables Ivanti customers to:
Receive assets with barcode and RFID scanners
Track assets using free barcode smartphone apps
Manage stockroom check-out/check-in
Capture hardware asset inventory
Perform rapid data center audits
Scan hardware information offline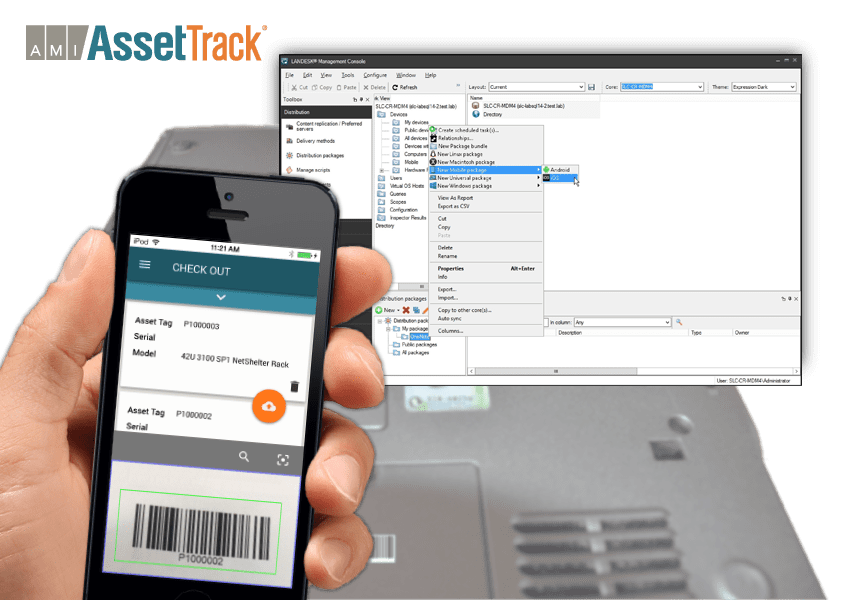 Benefits
Deploy barcode & RFID scanners throughout the lifecycle, integrating them directly with Ivanti.  AssetTrack supports all available barcode and RFID readers, making asset tracking automatic, real-time and highly accurate. Learn more…
Distribute mobile apps for technicians to enable fast, easy asset updates from the field. Learn more..
Enforce asset management processes specific to your business using AssetTrack's powerful configuration tools. Learn more…
Integrate with Management Suite and Asset Central easily for real-time hardware asset management.
Key Features
Free iOS, Android, Windows Phone apps
Barcode and RFID scanning
Offline data capture
Custom data validation
Configurable forms
Missing asset reports
Data accuracy reports
User activity reports
System Requirements
Ivanti Management Server
Data Analytics
Any HTML5 compliant browser
iOS 8+
Android Kitkat+
Windows 10+
Blackberry 10+
Certified by Ivanti
AMI AssetTrack® 4 barcode and RFID hardware asset tracking software is an official Ivanti One Certified Integration (March 2016). This means our integration was designed from the ground up to meet Ivanti's rigorous design requirements without sacrificing the performance, security, logging, and ease of administration expected in the Ivanti Management Suite environment.
As an official partner of Ivanti, there might be additional discounts offered for packaging AssetTrack at the time of purchase of any Ivanti ITAM solution. Please contact sales@amitracks.com for more information. Information about the Ivanti One Certified Program can be found at http://www.ivanti.com/en-US/partners/ivanti-one/asset-track4