AssetTrack® 4  IT Asset Tracking Software supports all modern mobile platforms including iOS, Android, Windows Phone and Blackberry, ensuring all enterprise users can scan, capture and upload asset information using the device they already have.  This makes mobile IT asset tracking a breeze.
Any Device, Anytime, Anywhere
A consistent user interface across all smartphones, tablets and browsers simplifies training and streamlines barcode scanning data entry, helping your asset manager capture complete, current and accurate data from users in the field.
Camera and Bluetooth Barcode Scanning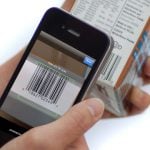 Scanning a barcode with AssetTrack®  is easier than taking a photo. The IT asset tracking software allows the user to simply touch the barcode icon and aim the iPhone's camera at the barcode. For those scenarios when the device camera is not modern enough to focus on smaller barcodes or the barcodes are clustered together, the app also supports partnering with the Socket Bluetooth scanner.
Free, Native Mobile Apps
Download free, native apps for all platforms, and connect them to your AssetTrack server in minutes. These apps make scanning barcodes with a mobile device easy and clean.
Benefits
Demand is increasing for employees to use their own personal mobile devices for work. The "Bring Your Own Device" (BYOD) movement can bring real advantages to improving IT Hardware Asset Management. Simply install the app, link to the server and use your mobile device for barcode scanning.
Lower costs
Using smartphone apps for barcode and Bluetooth scanning can cost thousands less than dedicated scanners. In addition, there's much less time required in training a person in how to properly use an app – nearly anyone can learn in minutes.  These greatly improve your ROI for IT asset scanning and management.
Increased program adoption
When more people are given the opportunity to quickly and easily track IT assets, there's an increased likelihood that the assets will be tracked. Less inventory is "lost in the system" due to unaccounted movement. Using a smartphone or mobile device for barcode scanning is efficient and easy.
Fast and easy software updates
Upgrades to apps are wirelessly "pushed" to the mobile device through the Apple app distribution system. The user is alerted immediately to upload the latest version.