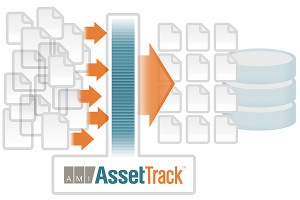 Asset managers require absolute control over changes made to the asset repository.
The AssetTrack® 4 Queue partnered with our barcode scanning software is a powerful engine through which all collected data flows.  Using its configurable data validation rules, AssetTrack® 4 analyzes each record, and holds any records the asset manager needs to review.  This powerful data reconciliation tool for IT asset tracking feature gives asset managers the confidence that collected data is complete, current and accurate before it is applied to the database.
Trap invalid data
The Queue tied with the barcode scanning process prevents the persistence of any invalid data records and holds them for later review by the asset managers. Using this single view, they can quickly identify and reconcile exceptions found across all collected data before it is persisted in the repository.
Customize your data policies
Asset managers can easily tailor the AssetTrack® 4 Queue to hold collected assets for review based on your own specific rules, specific to each task.   This ensures that only clean, accurate data is published to the backend database.  It also takes the responsibility of reconciling errors off the data collectors in the field, and places it on the asset manager who has the capability to do that work.
Available rules include:
Detect new assets
A specific field must have a value
A value must match specific text pattern(s)
Detect newly created models, assignees, locations and manufacturers.
Detect specific field value changes.
Report on user activity
The AssetTrack Queue records all upload activity from the various stages of your IT lifecycle management process, which enables KPI reporting to audit the effectiveness of your users in the field. Easily identify which users or groups are not following the process to scan a barcoded asset during a move or support stage.  Measure how accurate data collection is over time to identify areas of weakness.  KPI reporting  is essential to enforcing organizational change and to make sure all departments are active stakeholders in developing a healthy ITAM Program.