Right tools.
Right place. Right time.

Capture Data
Use AssetTrack mobile applications to capture data rapidly, accurately, with existing devices, using Barcode and RFID technologies
Any Device, Anytime, Anywhere
AssetTrack runs on all modern mobile platforms, online or offline, from anywhere in the field. Use the hardware you already have.
Support your existing devices including: iOS, Android,  and Windows 10
Save money by not retraining users with new hardware
Save time by configuring AssetTrack in a central location, and through 'pushed' updates to mobile devices
Improve data accuracy since users will adopt the process better using their own hardware
Barcode and RFID
AssetTrack supports all barcode and RFID scanners for data capture on any device.
Use fixed-position RFID readers to track assets moving through doorways
AssetTrack enforces data validation across all devices
Data collected across the enterprise will be compliant with your defined asset track process
Empowering The Asset Manager
As an asset manager, you are responsible for ensuring database accuracy. Don't make your data collectors fix problems with collected data. That's not their job.
The AssetTrack Publishing Queue is a data reconciliation tool to ensure data by your users in the field is complete, current, and accurate… before it is applied to the database. All collected data is processed by configurable, data validation rules, to prevent database corruption, ensuring what's in the database matches what's in the field.
Use the Publishing Queue to:
Capture data exceptions in a single location
Detect duplicate records
Detect improperly formatted data
Detect data conflicts
Manually review and reconcile data before submitting it to the database
Improve the trust of, and adoption by, others with accurate data for your asset tracking program
Integrate Data
Integrate Collected Data With Your Existing Systems
Out of the box, AssetTrack includes seamless, certified integrations with industry-leading IT Asset and Service Management platforms. Your collected data flows into your repository, real-time. With its data capture and validation tools, AssetTrack will maintain complete, current and accurate hardware asset data within your existing ITAM, CMDB and ERP systems.
Integrate collected, AssetTrack data for others to make important business, financial and purchasing decisions
Save money and time by not building integrations for platforms that change, which could break integrations. Let AssetTrack maintain seamless integrations that don't break.
Customize Your Solution
Make AssetTrack Work The Way You Work
Configure AssetTrack to work according to your defined asset management process, without writing code to:
Enforce compliance for your current asset tracking process
Improve speed and accuracy of collected data
Keep your database secure
Customize AssetTrack to increase the speed and accuracy of your asset management process:
Design custom forms, fields and business rules to specify what to collect
Define roles and permissions for who and what others can do
Use field auto-population to improve speed and accuracy of manual input
Configure publishing behavior to update multiple systems at once
Improve Your Process
See Trends To Improve Your Asset Management Process
Successful asset management is about people, process and tools working together. You want to know if this happening… or not, to do something about it.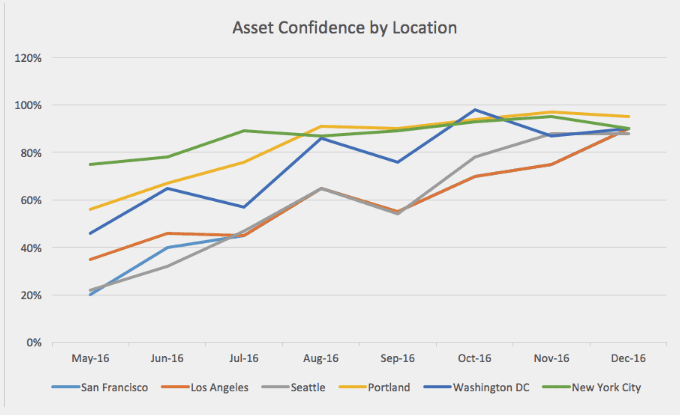 AssetTrack Intelligence answers:
Are people performing asset management functions correctly?
Which groups or locations have the highest/lowest quality data?
Where should we apply more training?
AssetTrack Intelligence for trends:
View reports showing: who's doing what, where things live, what processes are broken
View activity logs to know who is, and is not, supporting the process
View data collection accuracy by location to know where the process is improving or breaking down