Manage your assets
from cradle to grave

Receive
Save Time and Money
Receiving is the most critical process in the asset management lifecycle, when you take possession of, and are responsible for, the ownership of assets. Thus, you can:
Accurately pay invoices only for what you received
Know what's coming due by linking your received assets to licenses and warranties
Minimize taxes and insurance, paying only for your received assets
Succeed audits by linking assets to purchase orders
Make important, timely cost-saving decisions by the CEO and CIO
Quickly correct a problem by knowing when a shipment does not match an order
Improve tracking an asset's lifecycle by registering and tagging correctly at receiving
Get people to contribute sooner by getting them their assets now
The AssetTrack Solution
Financial and Asset receiving are typically two separate functions. It's difficult to access multiple systems and keep both systems in sync, leading to inability to reconcile financial and operational views of asset data.
Know from your PO system
when orders are created
Integrating PO data into your receiving process gives your receiving clerk the the Purchase Order data to receive assets correctly. AssetTrack mobile provides fast lookup of PO data for receivers to see accurate order information, correct errors, and receive assets properly and efficiently at the dock.
Know when assets are shipped
from your vendors
Integrate Advanced Shipping Notices set up automatic feeds of asset data from your vendors to improve data quality and reduce the effort on your receiving dock people.
Scan assets at the dock to
speed up receiving

With barcode and RFID to acknowledge receipt, speed up your receiving process with AssetTrack barcode and RFID scanning mobile apps that work on most devices, pre-loaded with PO data to give you instant feedback when a delivery is incorrect.
Receive notifications when
shipments are wrong

Catch Exceptions Automatically to learn immediately when shipments are wrong. Pay only for what you received. Receive only what you ordered.
Keep systems in sync
Update ERP and ITAM/CMDB in one step to reduce data entry and improving reconciliation. No more cleanup projects.
Track
Know where your assets are and who's using them
Track your assets as they flow through your environment (combined with automated auditing) to:
Know where each asset is located to reclaim, service, optimize, replace or dispose it
Know what's missing based on audit results
Maintain an accurate inventory to budget and plan effectively
Know instantly when sensitive data escapes to quickly reclaim it
Define your lifecycle process to rapidly address all of the above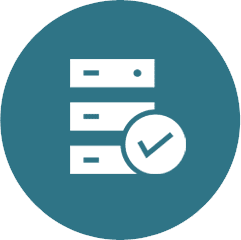 The AssetTrack Solution
AssetTrack provides tools to quickly and accurately update asset information as assets are installed, moved, added and changed (IMAC) throughout the enterprise. Using any device with barcode scanning support, technicians can change assignment, location and status of one or more assets in seconds. This ensures asset databases are maintained in real-time as incidents and work orders are closed.
Audit
People are busy. Mistakes will be made. Data accuracy will degrade.
No asset tracking software will catch everything. Use AssetTrack's auditing features to quickly correct errors and identify missing assets in your asset database due to human error or theft. This will give you confidence that your asset database is ready to generate reports needed by the business.
Provide regular feedback so managers can correct errors immediately
Grow executive confidence by proving your asset data is trustworthy
Show external auditors your assets and processes are accurate and solid
Find out immediately when sensitive assets go missing.
Save time doing audits
The AssetTrack Solution
For a given location, is everything where it is expected to be?
Use AssetTrack to perform location audits rapidly. Scanning with AssetTrack will update the database with the scanned in, actual locations. Using AssetTrack with barcodes or RFID, field technicians can quickly scan assets in a location to automatically take corrective action based on the asset states: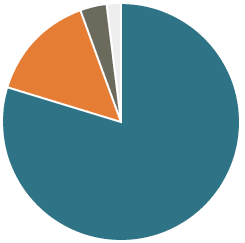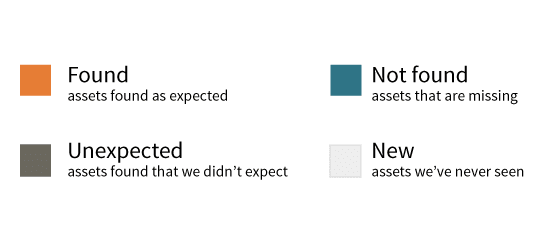 AssetTrack audits work on or offline, so your users can audit whether the network is available or not. Your asset manager can now view accuracy metrics over time to help improve your asset tracking processes.
Dispose
Protect yourself from assets lost downstream of your disposal process
AssetTrack shows what's been marked for disposal, to reconcile against the disposal vendor report. This proves that you disposed assets properly, shifting responsibility to the vendor for any assets lost downstream of your disposal process. Save money and reduce risk by avoiding fines.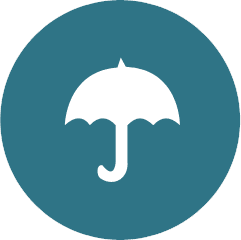 The AssetTrack Solution
During asset retirement, use AssetTrack to prepare assets for disposal.
Mark assets for pending disposal
Give assets to the disposal company
Reconcile your retirement report with the vendor's report to ensure correctness