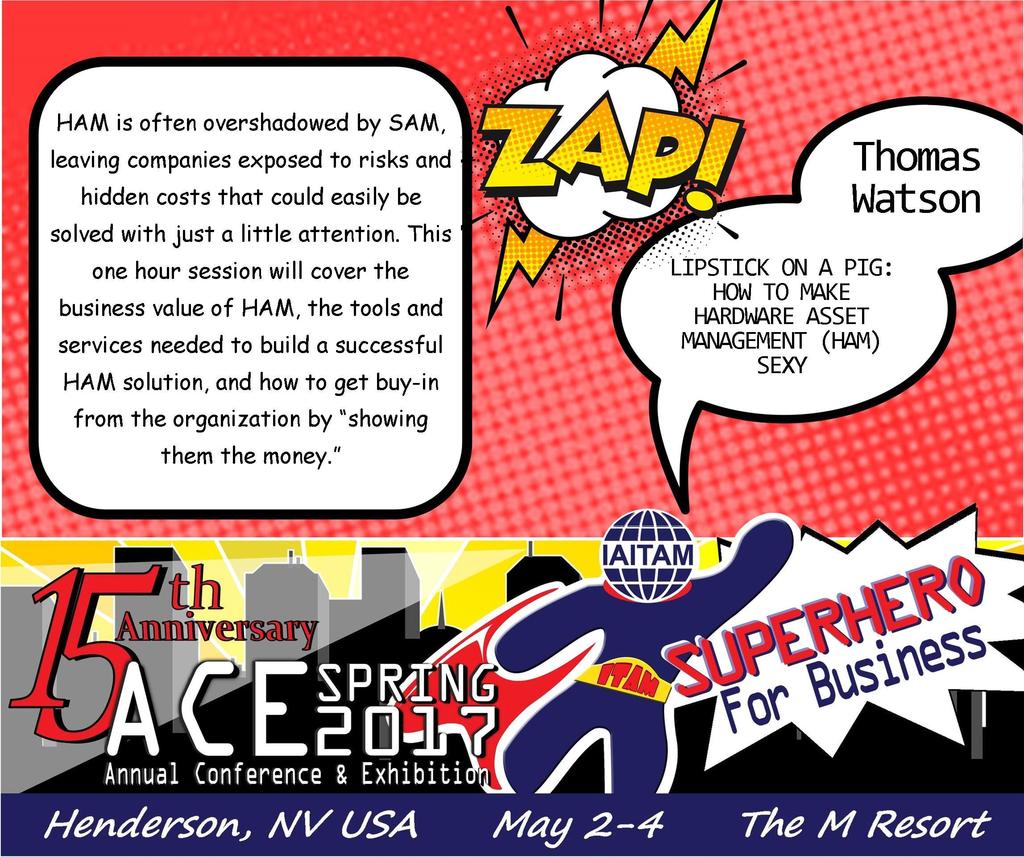 AMI Announces Bronze Sponsorship and IAITAM ACE 2017
AMI to exhibit and speak at the IAITAM ACE Spring 2017 annual conference and exhibition, May 2-4 in Henderson, Nevada
SEATTLE, Wash. — March 29, 2017 — AMI, a leading provider of barcode and RFID asset tracking solutions to midsize and enterprise organizations worldwide, today announced its participation as a bronze sponsor at the IAITAM ACE Spring Conference and Exhibition, taking place May 2-4 in Henderson, Nevada.
AMI is a featured speaker, with a breakout session on May 2 titled Lipstick on a Pig, How to Make Hardware Asset Management (HAM) Sexy. Also, located in booth #10 in the exposition hall, AMI will have sales staff and developers available for solution demonstrations and questions.
"IAITAM ACE is a 3-day conference where CIOs, COOs, CTOs, IT Asset Managers, IT Professionals, Finance Managers, Procurement Professionals, Compliance and Licensing Professionals and Legal Professionals come together to explore the latest in IT Asset Management and its effects on business operations and profitability. It's the longest running ITAM conference in the world. This spring we're celebrating our 15th anniversary and we're pleased to have the AMI team back as a bronze sponsor," remarked Rob Furney, speaker and exhibition manager at IAITAM. "We're pleased to welcome back AMI's CEO Thomas Watson as a featured speaker and thought leader, sharing his experience and best practices on hardware asset management and the enterprise."
When asked about the sponsorship, Thomas Watson, President and CEO of AMI said, "We've been an active member of IAITAM and attended dozens of ACE conferences around the world… I'm looking forward to sharing practical and actionable best practices and tips on hardware asset management in our breakout session on Tuesday. "
About Asset Management International
Established in 2003, Asset Management International (AMI) provides barcode and RFID asset tracking solutions that help companies receive, track, audit, and report on assets to make informed decisions with confidence. AMI's flagship product, AssetTrack, uses cutting-edge data capture and reconciliation technology to maintain accurate asset data organization-wide. AssetTrack is used as a stand-alone comprehensive IT asset management solution as well as alongside industry leading vendors including ServiceNow, Hewlett Packard Enterprise, and Computer Associates. Headquartered in Seattle, Washington, AMI serves enterprise clients throughout the world including United States, Canada, United Kingdom and Australia. Visit www.amitracks.com for more information.
Connect with AMI:
Like us on Facebook
Follow us on Twitter
Follow us on LinkedIn
Copyright © 2017, AMI. All rights reserved.