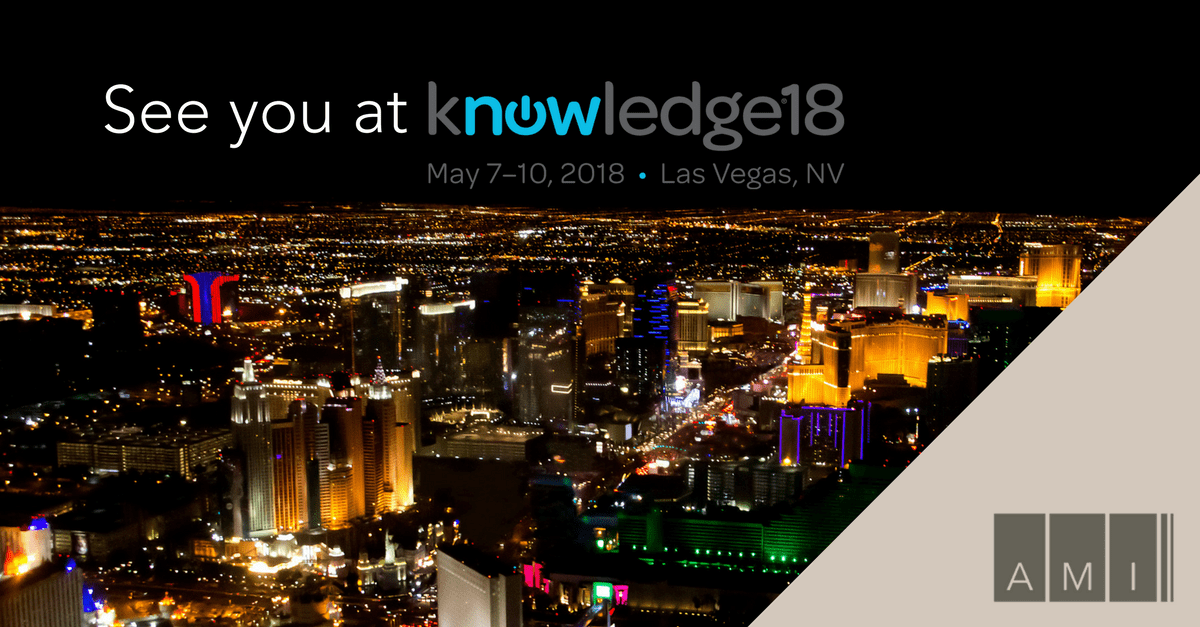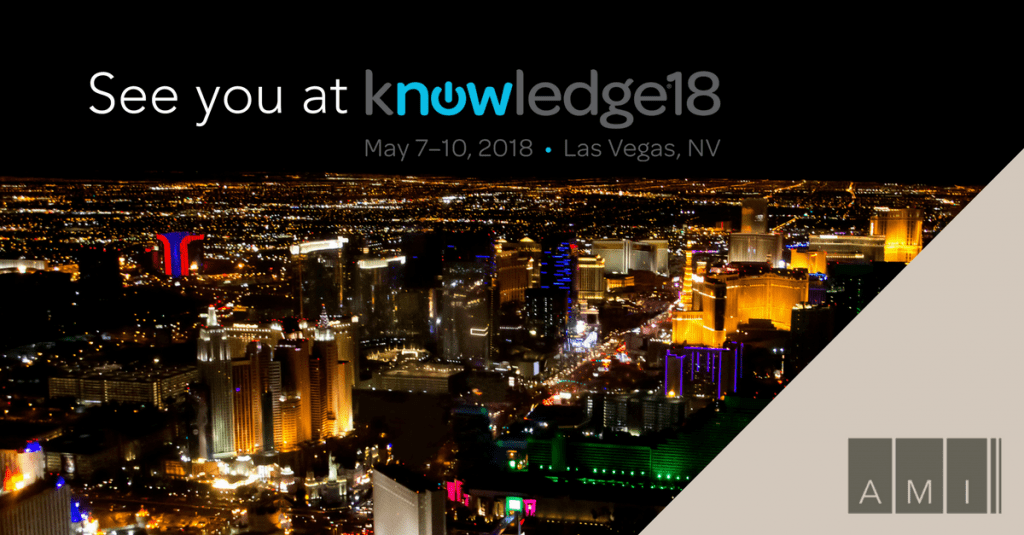 AMI to be Featured in Knowledge 18 Breakout Session
Digitize your Business with Intelligent Apps
Attending ServiceNow's Breakout Sessions in Las Vegas this May? Don't miss our speaking session in the customer success case study breakout track featuring Anil Singh – Vice President of Technology, Ares Management titled "Digitize your Business at Maximum Speed with Intelligent ISV Apps."
Full Description:
Now® Certified ISV partner apps available in the ServiceNow Store complement and extend ServiceNow products and enable customers to go-live at maximum speed. ISV apps are built native on the Now Platform by domain-expert ISVs and are pre-tested and ready to use – eliminating the design, development, and testing phases and enabling customers to accelerate time to value.
Learn from customer decision makers why and how they automated complex, manual business processes spanning multiple systems with ISV apps, leading to quantifiable business impact and valuable outcomes faster than otherwise possible. App categories covered:
• Mobile (barcode and RFID) hardware asset tracking and lifecycle management – AMI AssetTrack
• Learning Management System for workforce training, corporate and regulatory compliance – PlatCore LMS
• Business Continuity and Disaster Recovery – Fairchild Resiliency
• Enterprise Asset Management – Nuvolo EAM Facilities
• Telecom Service Management – MobiChord Mobile Management
Customers panelists:
Anil Singh – Vice president of technology, Ares Management
Rich Clark – IT project manager, New York City Dept. of Transportation
Stuart Murray – Sr. IT manager, global resiliency, Jabil Inc.
Jeffrey Mackay – Director of facilities, Vertex Pharmaceuticals
Jon Mulanix – Global telecom expense manager, Adient
Knowledge Session Breakout number BRE0634.
About Asset Management International
Established in 2003, Asset Management International (AMI) provides barcode and RFID asset tracking solutions that help companies receive, track, audit, and report on assets to make informed decisions with confidence. AMI's flagship product, AssetTrack, uses cutting-edge data capture and reconciliation technology to maintain accurate asset data organization-wide. AssetTrack is used as a stand-alone comprehensive IT asset management solution as well as alongside industry leading vendors including ServiceNow, Hewlett Packard Enterprise, and Computer Associates. Headquartered in Seattle, Washington, AMI serves enterprise clients throughout the world including United States, Canada, United Kingdom and Australia. Visit www.amitracks.com for more information.
Connect with AMI:
Like us on Facebook
Follow us on Twitter
Follow us on LinkedIn
Copyright © 2018, AMI. All rights reserved.