Simple Cost Analysis for RFID Options
Not surprisingly, lately I'm being asked more and more about RFID, and wanted to write a simple cost analysis for RFID options. As prices drop on this technology, its benefits become more and more attractive. I'm a strong advocate for RFID. I've written about its value in comparison to other tagging methods (see a summary here). I also produced a webinar titled "Finding the Sweet Spot with RFID," where I present ROI models for combinations of different tagging and detection technologies.
I thought it might be helpful to for those interested in making the leap to RFID, to present a brief summary of the options available, including current pricing and applications.  
[Feb 2021 – UPDATE: you can find an updated version of the simple cost analysis for RFID options here: Cost Analysis for RFID]
Tags:
Basic passive RFID: 10¢ USD each – Good for paper or other non-metal, liquid material.  Will not work for IT or metal assets.

Metal passive RFID: $1.50 USD each – Larger passive tags that work on metal surfaces.  Required for servers or metal-equipment, especially in a data center.

Active RFID: $15-$20 USD each – Powered RFID tags that emit their own signal every 30 seconds. Active RFID is fully automated and highly accurate. No human involvement and nearly 100% read rates. Immediate notification as things move around or disappear.
Readers:
Handheld – Passive RFID handheld readers. A human being waves the scanner near assets. Great for manual auditing of a location, data center rack, etc. About $3,000 each.
Fixed Position passive RFID:  Portal readers installed in a doorway that detect assets moving through. Figure $10,000–20,000 per portal for hardware, installation and configuration
Active RFID readers: Zonal readers that cover about 3000 square feet detecting active RFID tags in their zone. Fully automated, notifying administrators and updating the database in real time. Figure $1,250-$1,500 each.
Active RFID Rack/Room Locators:  Work in conjunction with Active RFID readers to report the precise rack or room location of the active RFID-tagged asset.  Figure $150-$200 each.
Integration
Virtually any RFID system can be integrated by publishing CSV file asset updates of asset information that has changed. Our software, AssetTrack, will export asset update to a format that can be scheduled to import into systems like ServiceNow or HP Asset Manager.
Read more about the "simple cost analysis for RFID options" in the article: To RFID or Not RFID
Bottom line:  The more you pay up front, the more automation you get.
The ROI of RFID depends on your labor costs and the value of real-time data accuracy. If you don't need real time data and labor is cheap, use passive RFID and handhelds. If labor is expensive and real time data is critical, invest in active RFID.
This is quite a complex topic, but I hope the above gives you a high level view of the decisions you need to make. AMI helps companies build the business case and evaluating the correct RFID choice.
AMI offers all tagging technologies – barcode, passive and active RFID – so we can present all the choices together. Other RFID companies are selling either active or passive, so they will tout the benefits of one over the other. This is why you should work with a company like ours that can help you compare and contrast all the options.
---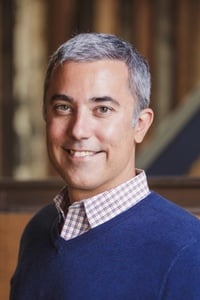 Author: Tom Watson
Tom Watson is AMI's President and CEO. He began his career in high tech in 1996, as a software engineer for his own software company, Market Matrix. After joining IT Asset Management firm Micropath as senior architect for that company's asset tracking system, he founded AMI to develop hardware asset tracking technology solutions for enterprise IT Asset Management customers to maintain complete, current and accurate data on their own.