Preparing for Receiving Success
Efficient receiving starts well before assets show up at the dock.  It requires laying the proper foundation and integrating relevant data ahead of time.  This post outlines AMI's best practices for receiving, which you can implement on your own or with our assistance.
Integrate procurement data
Efficient receiving is made possible by integrating purchasing information as orders are placed. AssetTrackⓇ receives PO information the moment an order is placed and makes it available to quickly receive and detect delivery errors the moment an asset is received, right at the receiving dock.
Detect and Reconcile Catalog Exceptions
If all assets were purchased from standard catalogs, receiving would be easy. However, assets are purchased "off catalog" all the time, and the business cannot easily change the purchasing process just to make the receiving process easier.
AssetTrackⓇ automatically resolves CMDB model information from PO data when enough model information is available, making receiving into the CMDB simple. AssetTrackⓇ provides the tools for asset managers to detect and reconcile unmapped PO and model information when needed, ensuring absolute perfection of the asset information.
Import Advanced Shipping Notices (ASNs)
Advanced Shipping Notices (ASN) are vendor-supplied feeds of data about assets that have been shipped and provide an excellent opportunity to improve data accuracy in your ITAM repository and data collection efficiency at the receiving dock. Importing ASN data prior to receipt greatly simplifies receiving and dramatically improves the quality of your ITAM data. Receiving staff no longer have to collect model, PO and contract information, saving time and eliminating the possibility for error.
AssetTrackⓇ automates ASN data import through its configurable data capture API. System integrators can easily schedule ASN data import using scheduled import tasks.
Asset Tagging
"Time is money" as the adage goes, and tracking hardware assets is no exception. Spending less time doing data capture allows your field technicians to focus on more important things. In addition, scanning means less less time fixing mistakes from manual data entry. Spending a small amount of up-front work identifying where you can and should use scanning to drive data capture will drive collection time down to a fraction of what it would be, otherwise. Individual assets, locations, assignee codes on badges … if it helps speed up data capture, put a tag on it.
AMI's partnerships with industry leading barcode suppliers and years of experience allow us to help you pick the best tags for your specific data capture needs.
Scanning At the Dock
When assets are delivered, AssetTrackⓇ mobile scanning solutions quickly capture the received asset information, instantly alerting receivers of any discrepancies between what was ordered and what was delivered.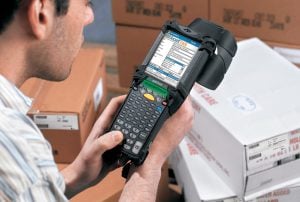 This is the optimum time to tag assets as they prepare to begin their lifecycle with the enterprise. Because relying on others' barcodes is counter productive, the receiving processes you define should ensure no asset makes it out of receiving without your own asset tag. Using a combination of intelligent process design and powerful AssetTrackⓇ data capture capabilities, this should add only a minimal amount of additional overhead. This will pay for itself in increased program accuracy and efficiency as the asset moves through the enterprise.
Reconciliation / Asset Management
Asset Managers are alerted of any exceptions in receiving data before it is accepted and applied, ensuring errors are caught and corrected. The fine-grained validation control available in AssetTrackⓇ gives asset managers confidence that all data passes all configured validation before changes are saved. Finally, AssetTrackⓇ updates both the ERP and asset systems, receipting line items and populating the ITAM repository in one integrated step, ensuring alignment between the two systems via a common receiving interface.